I know, I'm really behind with this (but clearly have had other things on my mind lately); NME editor, Conor McNicholas, has resigned.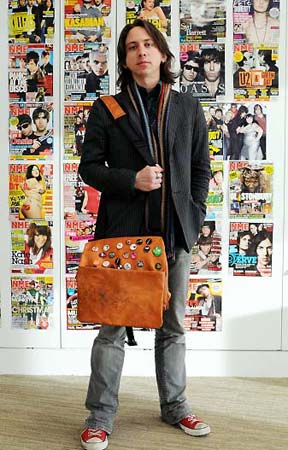 He's had a rather fantastic seven year run as editor, and despite him branding my beloved Morrissey a racist all over again in 2007, I like him and find his freckles and obscure dress sense seem to prevent him from ever ageing. He's a good guy. While on work experience at NME I've delivered his breakfast to him, trudged to Waterloo in torrential rain, with only a broken umbrella and suede boots, to pick up his weekly reading materials (I'm pretty sure I had a brief bout of trench foot after that) and chased him around for a Q&A session for days – he finally agreed to it in exchange for a cup of tea.

Whilst having our friendly and laid back chat (well that's how he was, but I was sweating profusely with nerves) he told me all about how he ended up with the greatest job in the world: he intended to study Geography at Cambridge, but sub-standard A-Level results put an end to that. So instead he went to Manchester University to read Philosophy, purely for the reason that he loved The Hacienda. He worked on the student paper and had to write the horoscopes section as no one else wanted to. He finished university with an "alright" grade and then went on to contribute to numerous now defunct dance music magazines. He gained editorship at NME after being internally hired from fellow IPC publication Muzik.

He has won a whole bunch of prizes for his good work (Entertainment Magazine Editor of the Year, Editor of the Year and Music Magazine of the Year) and is also currently Chairman of the British Society of Magazine Editors. He is now set to take over as editor of Top Gear Magazine (I wasn't even aware such a thing existed).

The last time I saw him was at Radio 1's Big Weekend eating a bag of doughnuts and was talking to me about Akon and N-Dubz. I'm not sure if he will still be at NME in August when I'm due to revisit for another work experience stint so I want to wish him the best of luck and thank him for making NME my favorite magazine and allowing me on work experience on numerous occasions where I have learnt so much over the past couple of years.

Reading NME is what made me want to be a music journalist and ignited my overly keen interest in magazine publication, and therefore gave me some sense of direction for my future career aspirations.