The new editor of NME has been announced: Krissi Murison.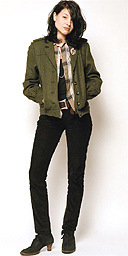 The last time I was on work experience with NME, it was her final week there as deputy editor before leaving for New York to become NYLON's New Music Director. People were making speeches, getting all teary and presenting gifts. It was all so lovely until a fellow workie (who's name I never did come to know, I just had to nudge her and call her "mate" when I wanted to indicate it was time to go to lunch) kept making noise and pretty much ruined the sentimental moment by getting all up in Miss Murison's face trying to get contact details for NYLON. Finally, someone snapped and told her she was being inappropriate and then the unnamed workie breaks into tears and drops the bomb, "I have autism but didn't mention it on my CV or application form."
Bloody hell. That was uncomfortable. At that point I grabbed my things, thanked the people I had worked with that week and ran.
Anyway, I think Krisi Murison is an excellent choice of editor. She is to be NME's 11th editor and the first female to take the reins in the title's 57 year history. It's quite the understatement to say that her rise to editor is encouraging and inspiring for an aspiring journalist like myself; she went from lowly work experience kid to junoir staff writer, then onto new bands editor, then features editor and finally deputy editor in just six years. The definition of impressive. And now she's all set to take over on 1st Sepetmber.