You've got you tickets for This Is It, right? Because if you have, you know it looks mind-blowingly amazing.
Can you believe those vocals? Marvellous.
Of course I'm enjoying all this Michael-mania (I would have been basking in it to a greater degree if he was alive) but I'm getting pretty sick and tired of people jumping on the allegorical bandwagon; "Oh yeah, I love Michael Jackson. I think I have a greatest hits collection somewhere at home, actually it belongs to my mum but I have seen the whole Thriller video." Wow, well done. It's a shame he had to die for people to wake up and care about him. Plus when I see people wearing Michael Jackson t-shirts in an ironic, conceited way, I get so angry.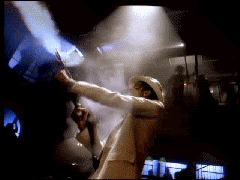 But then I think of Michaeal, the greater good, and I how happy I'll be when watching the film. Kinda like this...