*Warning*
This is a sad post. Brace yourself. It's all about one's that got away. I'm tearing up. When you find a cosmetic product that works for you (and I mean
WORKS
) it's a joyous occasion; the beginning of a blessed union which should last forever. When your beloved is taken from you it hurts, bad. You miss them. You picture the good times you once had together and all that other sentimental torture. It's tough when you are forced to go cold turkey by beauty brands who decide it's okay to suddenly stop supplying the goods – they're like the world's meanest drug dealer. They lure you in, get you hooked and then cut you off.
This is difficult for me, but I'm going to recall for you, dear reader, some of the best extinct beauty products I've come to know, love and then mourn. I just hope other girls can read this and know that there is life after the discontinued beauty product.
1) John Frieda Beach Blonde Ocean Waves Spray
This was something of a trailblazing product in 2002, it may have been this way-ahead-of-its-time quality that lead to its demise. Before texture and sea salt sprays, there was this. It promised lived-in, gentle beach waves and it totally delivered, plus it didn't dry out hair either. It was an oil-infused spray that gently mussed up hair and made it smell like coconuts too. There have already been appeals to John Freida to resurrect this much missed styling spray, but they've made up their minds, the glory days of Ocean Waves Spray are over.
Are there any survivors?
Yes. There is one lone seller on Ebay asking for $150 for three bottles.
**UPDATE** It's baaaaaaaaaaaaaaaaaaaaaaack
2) Marc Jacobs Rain
Hands-down, this is/was my favourite perfume ever. The scent so fresh, the bottle so large (10oz) – Marc Jacobs was really spoiling me. That is, until it was coldly discontinued and replaced with his latest larger-than-life fragrance collection, which was disappointing and inferior in every way to this scent, which combined and bottled the smell of fresh cut grass and warm tropical showers (typing that almost made me cry – your sense of smell carries way more memories that any of your other senses, y'know)
Are there any survivors?
No. Some fragrance enthusiasts claimed that Rain would be the only perfume from the 2006 Splash collection (which also included Grass and Cotton perfumes) to stay in production, but that was a LIE.
**UPDATE**
As of April 2012, Rain is back as part of Marc Jacob's Tropical fragrance collection. However, it is now only available in 30ml bottles for around £29. REJOICE.
3) Bobbi Brown Eye Brightener
The news of this unbelievably effective but lightweight dark circle concealer being taken from the shelves hit me hard. The shop assistant didn't even look me in the eye when she broke it to me. This little pot of wonder has been replaced by Tinted Eye Brightener Pens, which is just insulting. The product names are so similar, but the pens contain only 1.5g of product whilst the pot held 7g and both were/are sold for £22. That's easy maths – you're being ripped off. Yes, the pot was really messy but it was my messy pot, and I miss it.
Are there any survivors?
Well, you can try the pens, but they definitely do not contain the same concealer I fell in love with.
**UPDATE**
Bobbi Brown are now selling their Tinted Eye Brightener in
new packaging
in the form of a clear tube with a "doe foot applicator". Also, it's available in way more shades these days. The new packaging is better than the pen but still not as good as the pot.
4) Maybelline Dream Mousse Shimmer
I hate Maybelline's Mousse skin makeup products. The foundations just look so cakey and drying, so it was with some surprise that the shimmer from this godforsaken range was something of a revelation. It made for seriously easy highlighting; just smear
(I hate that word, but it's the only way to accurately describe the application process)
in a crescent moon shape from the end of your eyebrows to the top of your cheekbone and an iridescent glow was yours. It came in two colours, the golden, lightly bronze one ('Champagne') was my favourite, but the pearlescent ballerina pink ('Porcelain') looked mighty fine too.
Are there any survivors?
There are quite a few remnants on offer on Ebay and from Amazon sellers. However, I'm hesitant about whether the shimmers will have expired... I'll investigate at a later date.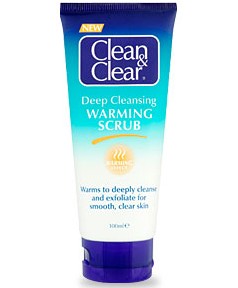 5) Clean & Clear Deep Cleansing Warming Scrub
Annoyingly, this is still listed on Clean & Clear's website as being a product they sell. They don't. They are taunting me something unmerciful. I've tried to move on, I've sampled other self-heating scrubs but none of them have matched up. The Clean & Clear one didn't just warm up, it got
HOT
once worked into the skin and it stayed that way until washed off. Plus the exfoliating granules were particularly gritty and they left a light moisturising oil on the face.
Are there any survivors?
No. Clean & Clear in the US offer a 'Daily Pore Warming Scrub' which I guess could be a potential replacement, but admitting I'll never have the original back won't be easy.
6) Benefit Pineapple Facial Polish
Another tragic loss in the realm of facial exfoliation came in 2008 when Benefit cruelly halted production and distribution of this dreamy skin buffer. It smelt, unsurprisingly, like a big ol' juicy pineapple and the nourishing fruit enzyme extracts it contained meant that skin was given a definite radiance boost after use. My mouth is watering a bit just thinking about this one.
Are there any survivors?
No. Benefit have wiped this astoundingly good product from their history as though it never existed, and their new skincare range really isn't up to much when compared to this Zeus of skincare.
As this post comes to a close, I should have some kind of helpline you can call if any of the issues raised by this post have affected you or a loved one, but since I hate taking phone calls just leave a comment instead.