Thursday, 29 August 2013
I wrote about Vichy's Dermablend cover-up cosmetics for Planet Notion
Read
HERE
Posted by

Kate
at 20:27
No comments:

Saturday, 17 August 2013
[Please note: I wrote this quite some time ago and did nothing with it... Hence some of the slightly outdated reference points. You'll enjoy it, regardless.]
I couldn't help myself. I had to watch an episode of ITV2's latest trash TV documentary series, The Big Reunion.
It consists of washed up '90s pop bands talking viewers through the highs and lows of their careers before culminating in a get-together of these sad and bitter has-beens for a live tour in a display of human spirit overcoming adversity, or something like that.
The episode I had to watch was the one featuring Irish girl group B*Witched.
During the late '90s, as a pre-teen, I was besotted with them. They were so fun, so bubbly, so relatable ("Hey, they wear denim. Wait a minute… I wear denim too!") and, above all, utterly sexless. Those double denim ensembles were cool to a twelve year old - I would have given anything to own the jean flares my favourite member, Edele, wore on the cover of their debut album as they had a snazzy flame applique around the hem – for the precise reason that they showed no signs of a womanly figure beneath them. No boobs, no hips – just tomboy cutesiness.
As I relived the dizzy heights of B*Witched's heyday (which essentially boiled down to four consecutive number one singles) I also had to remember their untimely demise. When their country-tinged 1999 single '
Jesse Hold On'
peaked at number four it was time for a new plan. As the documentary's voice over said, "It was time for them to ditch the double denim and sex it up."
For my Irish idols their sexy image overhaul consisted of less denim, halter neck tops made of flimsy material, no bras, smoky eye makeup and prolonged bedroom-eyes gazes down the camera lens in their music videos, and posing for
FHM
. [
Whilst we're on the subject – why do pop stars bother posing for men's magazines? The male readers digesting the images are not their target audience. They don't buy the music, concert tickets or merchandise the act is selling. Is the money really that good?
]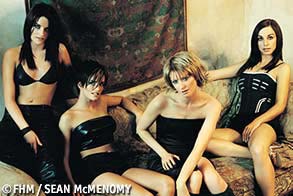 ANYWAY the sexy angle simply did not work for them. Their chart positions worsened and they were swiftly dropped by their record label. Sex destroyed B*Witched and their bubble gum brand of wholesome pop.
Fragile band member Keavy Lynch admitted, "The whole change of image was the wrong choice. It was never who we were." Fellow B*Witcher Sinead conceded that "the fans got confused."
Damn right they did.
What the hell was my ten year old self supposed to do with their new image? Why did they describe their image as more "grown up" or "mature"? Is that all it takes to be an adult – be sexy and have sex? How is a young girl supposed to react to seeing the pop star she wanted to be, or at least invite to the slumber party of her dreams, suddenly discovering their libido and forcing it upon you? Was I supposed to grow up overnight too? I, like the rest of the world, ditched B*Witched and directed my obsessive fan compulsion elsewhere.
Popular music and its stars have, of course, always gone hand in hand. Starting with Elvis' censored hips in the 1950s and, arguably, peaking in 1992 with the publication of Madonna's soft-core pornography coffee table book Sex. Lady Gaga and Rihanna are yet to do anything as senselessly sex-charged as their foremother.
The balance between pop and sex is a delicate one. When done right it's pleasing and instantly likeable. No body achieved this better than Britney Spears for a two year period between 1998 and 2000.
The key was the veil of innocence draped over Britney's overtly sexual image. Sure, she was dressed like the prettiest school girl the world had ever seen but it was okay to like her as her fans were schoolgirls too. Even that dangerously lolita

David LaChapelle

photo shoot for Rolling Stone worked as although it was risqué it was also tongue-in-cheek and sexy without being aggressive or forced. She was suggestive without being offensive.
But once '
Slave 4 U'
rolled around and Britney was tired of people looking at her "like a little girl" I had to abandon ship once again. I liked Britney when she wore her hair in pigtails and pretended to be pro-chastity, not when she was covered in baby oil and wearing a pink G-string over her hip huggers. Literally slobbering over Madonna was the nail in the coffin for me ever buying another Britney Spears CD or any of her endorsed products. No more Pepsi or Sketchers for me.
Yet is it preferable for female pop sensations to begin as bright, young and supposedly virginal products before descending to out-and-out selling of their sexuality and bodies? Is the transformation of Christina Milian from the fun-loving, curfew-breaking girl of 'AM To PM' to that of the writhing geisha of 'Dip It Low' more or less depressing than the cards-on-table tactics of today's pop queens?
What about Miley Cyrus trading in her status as Disney teen sensation to dancing around a pole at the Teen Choice Awards,
gyrating in hot pants
before the British monarchy and portraying herself as some kind of
sexy ornithological oddity
.
[Since having written this Miley Cyrus' case has obviously progressed somewhat]
Are those image U-turns better or worse than Lady Gaga or Katy Perry who made it clear from day one that they were about "disco sticks" and promiscuity and little else?
If I had the misfortune of being a teenager today I'm not sure whose poster I would be pinning up on my bedroom wall. In fact, I don't think I would bother.
Posted by

Kate
at 14:24
No comments:

Tuesday, 13 August 2013
Posted by

Kate
at 16:58
No comments: